Former carpet installer now living life of luxury
---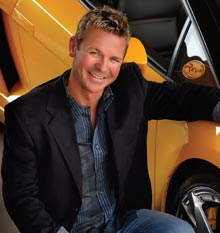 There are a lot of miles between life as a carpet installer and being a 9-Star Diamond Director and the 2009 Distributor of the Year. Jeremy Stansfield has sped through that journey. He certainly has the vehicles to accomplish such a feat. Jeremy possesses a stable full of Hummers, ATVs, snowmobiles, jet skis, boats, an RV, and a sizzling yellow Lamborghini—his reward for taking home the $250,000 top prize in last year's Millionaire Challenge. But none of those would be parked in his garage without Jeremy's real vehicle for success: USANA.

That vehicle took Jeremy from a man with big dreams to one of the most successful, recognizable faces in USANA. "People see me as a carpet installer who found USANA and suddenly built this big business," he says. "The fact of the matter is that I've had big dreams for a long time. If people could just temporarily experience the freedom a USANA business can provide, they would drop everything to focus on making the lifestyle of their dreams possible."

With the help of USANA, Jeremy lives that dream lifestyle every day. He wakes up in a spectacular home comfortably nestled in the heart of Utah's Rocky Mountains, surrounded by breathtaking views. There are the garages filled with things most only dream of. Most importantly, there's the time freedom to enjoy it all with his two young daughters, who love spending time at the nearby lake, snow-skiing, taking trips in the RV, or travelling with their dad at a moment's notice.

Jeremy shares the riches of his USANA success with others, as well. "Giving back to the Children's Hunger Fund is a big part of my life!" he comments. Jeremy's grandmother desperately needed a new car. She had always dreamed of a little red sports car. "This is something I had always dreamed of giving to Nana because she helped me so much prior to USANA. The look on her face was priceless when I was able to make this dream a reality on Christmas morning for her!"

The outdoor-lover's Mecca that surrounds Jeremy's home is the perfect arena for letting friends and family enjoy the fruits of his hard work. "It's not necessarily owning these items that brings me the most joy," Jeremy says. "It's about using them as tools to bring my family, friends, and prospects together."

For Jeremy Stansfield, another perk of USANA is the ability to positively affect the lives of others by helping them travel the road of their dreams. "None of us have any limits. We don't." he says. "If you reach down deep inside, you will discover that you can accomplish whatever you want to accomplish, with USANA as your vehicle."


USANA Health Sciences, Inc. ("USANA") of 3838 West Parkway Boulevard, Salt Lake City, Utah 84120 USA is the promoter of this trading scheme in the United Kingdom. The goods which are sold under this scheme are nutritional supplements, body care and related products produced or supplied by USANA and any other such goods or services as USANA may market from time to time. 



It is illegal for a promoter or a participant in a trading scheme to persuade anyone to make a payment by promising benefits from getting others to join the scheme. 



Do not be misled by claims that high earnings are easily achieved.