Jim Bramble Has a Good Story for You
---
By David Baker


Jim Bramble loves a good story. He devours them, in fact.

USANA's chief legal officer reads a book a week. That's a lot of stories in a year. A lot of pages turned. A lot of words consumed. He says he'll read about anything that's well written. Historical biographies are his favorite, though.

"It's interesting to really get to know people who are larger than life because you might find out they live their life like everybody else," Jim says.

He doesn't just find his story fix tucked into the pages of books. Jim also loves movies. For a time, as a kid, Jim wanted to be a newspaper movie critic. He decided to be a lawyer instead, but he still writes reviews of the movies he sees and shares them with family and friends. He even spends some of his vacation days inside theaters soaking up everything Sundance has to offer—the major independent film festival that arrives in Utah every January, sure as the snow.

But this lover of stories has an interesting USANA story of his own. He was looking for a supplement or health company to work for when he found USANA. "I grew up with health being taught in my home," he says. "But I was probably the only person I've ever met that didn't know anything about direct selling. That side of the business, that first six months, was very strange to me." He has become a big proponent of the direct selling.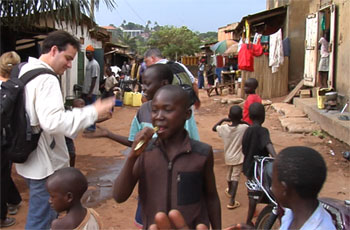 Jim is also an advocate for the underdogs of the world. He doesn't like to see the little guy get pushed around. Whether that means fighting for the supplement industry to get a fair shake, or the charity work he does, Jim wants to give a voice to the voiceless and a helping hand to those in need.

That's probably what makes him uniquely qualified to be on the board of the USANA True Health Foundation. Also, he's seen the impact that can be made.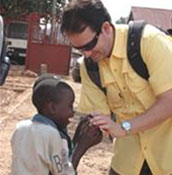 Jim had the opportunity to travel to Uganda. While he was there, he delivered food and medicine, visited the Wentz Medical Centre, and went to a Children's Hunger Fund orphanage, where he saw the difference made by Usanimals™ donations.

One boy particularly had an effect on Jim. The child was malnourished to the point where he didn't even want to eat anymore. He started taking Usanimals—getting that balance of nutrients—and his appetite came back, so he was able to eat the food provided at the orphanage.

"There's lots of stories like that because basic nutrition is important for everybody," Jim says, "especially people who are malnourished. Seeing children that it made a difference in their lives was a great moment."

It's a great story—the kind you could see Jim reading through in a week or less. It's also the kind of story Jim is making possible every day with his work inside USANA and out in the world at large.

Go to What's Up USANA? to learn more about Jim Bramble.