USANA Gave Everyone at the 2012 International Convention a What?!
---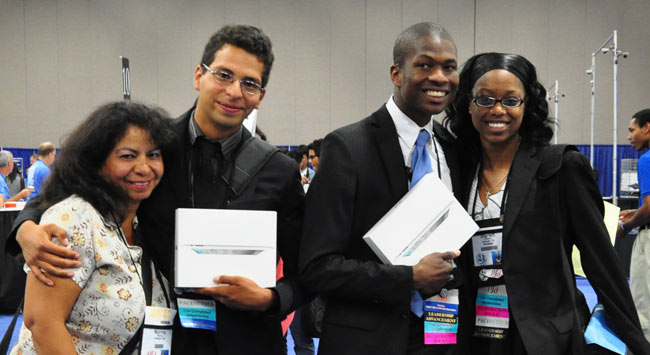 Sometimes we build things up with clever phrases—add a little word-spice to things, if you will. This doesn't need it.

We gave everyone iPads.

You read that right. Everyone who came to this year's International Convention just got a brand-spankin' new Apple iPad How's that for a party favor? Way better than some off-brand candy.

What other companies just decide to give thousands of people iPads? Very few. Almost none, in fact. That's what makes USANA the best. But you already knew that.

Of course, lots and lots of free iPads are shiny. Of course they're cool. Of course this is something to brag about. But there's more to it than that. We may be celebrating our 20th Convention, but we're also looking to the future. Specifically, the future of our Independent Distributors' businesses.

The future is looking more and more mobile. As a USANA Associate, you need to run your global business from anywhere on the globe. And an iPad is a great solution. Need your contacts list? Done. Need to send a quick e-mail? Done. Need to check the latest news on this very site? Done and done. Need to give a presentation? You guessed it—done.

With these new iPads, the thousands in attendance will be able to download the Health & Freedom Solution through iTunes and maybe even download a few other exciting apps and run their businesses from virtually anywhere. The power will be where it belongs, right in the palm of their hands.

Let's say it one more time because it's just so amazing: We gave everyone who showed up at Convention an iPad. But that's not all.

The iPad was a one-time thing, but the array of tools, training, and customer care is an all-the-time thing. We're committed to helping you achieve your business dreams. No matter how you decide to run your business, you'll have the personalized support you need to succeed.

So maybe it's not an iPad, but a shot at success is a pretty good gift.