The Luxury of Paris, the Gift of Discovery
---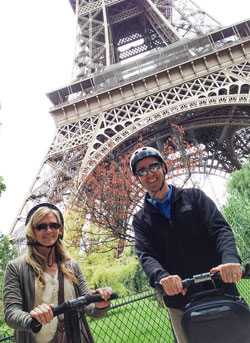 Just down the street from the Palais Garnier, on the edge of the 2nd arrondissement in Paris, France, the Associates of USANA's Fortune 25 stepped out of the Le Grand Hotel and into the city of lights. This group—the most exclusive group in the USANA family—arrived from all over the world to enjoy Paris together and celebrate their hard-earned achievements through the success of their USANA businesses. By doing so, they were the walking, talking, shopping, dining, picture-taking manifestations of the freedom that the USANA opportunity provides.

But while every Fortune 25 trip—which rewards the top 25 income earners in USANA—takes place at the most exclusive locations in the most beautiful cities all over the world, this trip was about so much more. For a week in September, the Fortune 25 experienced the gift of discovery—the chance to find themselves in another country with a history and a culture full of incredible food and amazing art and architecture.

The Associates were encouraged to discover the city their way, from shopping sprees on the Champs-Élysées to touring the museums sprinkled throughout the city limits. While dining at the finest restaurants—like the Michelin-star rated L'Atelier Maître Albert and the Chez Francis, known for its spectacular view of the Eiffel Tower—Associates discovered foie gras (fatty duck liver), terrine (similar to pâté), and classically cooked main courses. Of course, in a country full of the most delicious pastries, dessert was never overlooked, either. And with members of the USANA management team on hand, Associates had unbelievable access to the leaders of USANA's offices in Canada, the United States, Hong Kong, and Mexico.

The Fortune 25's discovery of the city was aided by the complete VIP treatment. They traveled by private bus to venues like the Palace of Versailles and Monet's home and gardens in Giverny, and tour guides spent the entire trip sharing the history of the city in English, Chinese, and Spanish to accommodate the international flavor of the group. But that wasn't the only mode of transportation—some Associates toured the city by Segway, and in order to get to the gala dinner at the Jacquemart-André museum, USANA provided the group with beautiful stretch limousines, complete with chilled champagne.

Paris is open for anyone to discover. It's the way in which USANA's Fortune 25 uncovered the city that made this trip a once-in-a-lifetime experience. For these extraordinarily driven and successful Associates, the gift of discovery separated this incentive trip from all others before it, and, more than likely, every trip to come.