Paris Convention Takes the Stage
---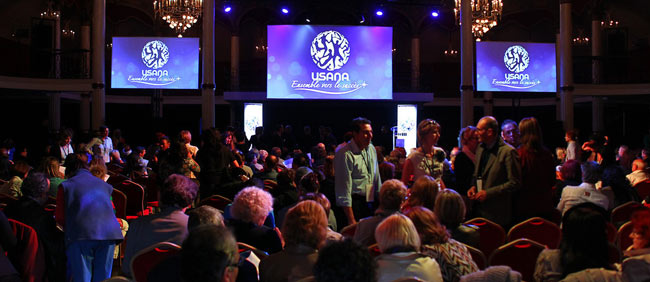 The opening of the USANA France and Belgium office in Paris (on the Champs-Élysées no less) was just the beginning. To help set our new French Associates up for success, we held a Paris Convention at the Espace WAGRAM, near the Arc de Triomphe. Titled "Ensemble Vers le Succes" (Together for Success), the event attracted Associates and guests from all over France and Belgium (and some Canadian-French Associates as well). USANA leaders and management from France and the United States wasted no time revealing to the crowd the secrets to success with USANA—and disclosed some amazing product announcements along the way.

Philippe Gaudart, the director of development for France and Belgium, started the day off with a strong message to those in attendance: "This vision gives you the keys to success," he said of USANA's mission. "Success that will enable you to meet your challenges. Success that will allow us to win together."

Then, the crowd got to hear from some amazingly successful Associates, including Emerald Director Isabelle Wilson, who shared her hardships with the audience, which included developing lung cancer and fibromyalgia while raising three children. She highlighted USANA's use of science in the creation of their award-winning products, saying, "Today's nutrition is the doctor of tomorrow." She also reiterated the benefits of the time freedom she now enjoys. "Isn't it nice to not have a boss?" she asked the crowd. "I can work anywhere. I determine what I can earn. USANA is the best company in the world."

But while the speaker lineup—which included Dr. Brian Dixon, executive director of product and technology innovation; Dan Macuga, USANA chief communications officer; Jacques Cosnefroy, General Secretary of the FVD (French DSA); and even Zak Ross and Vincent Chan, members of USANA's Fortune 25—created an atmosphere of excitement, it was the new product announcements that had Associates on their feet. The crowd was pleased to hear the news that HealthPak™, Nutrimeal™, and Nutrition Bars are now available in France and Belgium.

With so much information provided throughout the day, it was no wonder USANA President Kevin Guest took the stage to sum everything up with one simple question: "What is your reason for being here?" He encouraged the crowd to focus on their "why" as they build their businesses. "And," he said, "work hard. Be constantly consistent. And may you love life and live it."


We're proud to bring you the freshest content on the web! Follow USANA, like our USANA Facebook page and enjoy the latest videos on the official USANA YouTube channel.

The future of personalized health and nutrition. Coming soon at http://www.truehealthassessment.com/.

Learn how USANA is making the world a better place.