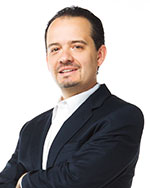 James Bramble received his bachelor's of science degree in political science with a minor in Spanish from the University of Utah in Salt Lake City. Three years later, he received his Juris Doctorate in Law from the University of Utah College of Law where he was actively involved in numerous student organizations.

Prior to USANA, James was employed with Novus Services. In addition, he served as a judicial intern with the Utah Court of Appeals as well as an intern for Catholic Community Services as an immigration law clerk. As USANA's current general counsel, he oversees many important legal aspects of the company's business practices, including Associate compliance, litigation, intellectual property, regulatory, international development, government relations, and Associate education. In addition, in his role as USANA's corporate secretary, Jim ensures that USANA complies with relevant legislation and regulation, and he keeps board members informed of their legal responsibilities. He is also active in the Association of Corporate Counsel, the Direct Selling Association, and various other groups and trade associations.

Moreover, James is a very involved member of his community. Having run political campaigns for the Utah State Legislature and participated in numerous capacities in his community, he also has taught American National Government as an adjunct instructor at Salt Lake Community College.